I do not take my Christmas shopping lightly. I try... to choose the perfect gift for each person on my list. Some years it is a silly gift, and other years it is a bring-you-to-tears gift... but no matter what, I really try to choose with love. But, when it comes to my Mom, I never know which kind of gift I have chosen... until she opens it! After her first trip to Africa, I was almost at a loss at what to get her... not sure that she really needed or wanted one more thing. I finally settled on a Partylite candle holder, with an African theme... and I hoped she would smile and like it. Maybe a lot. Never once did I dream she would break down in a pile of tears over it... or push Baby Jesus right out of the stable and replace Him with the candle holder (that being the only safe spot to have a lit candle amidst flying wrapping paper!) I guess loving Africa will do that to someone! But this year... it was she who made me cry. Over a pan.

I love my pots & pans. Belgique! It is so much fun to say! And even after almost 18 years, they look almost new. Several years ago my Mom came across a great sale... and picked up several pots and pans for herself. Including two sizes that I did not have! After admiring them greatly, I hinted at wanting them... since she had more than one of each! Eventually, she did give me the smaller pot, and it made me smile. But what I really wanted was the 3.5 quart pan. And she had two. Oh you can do so much more with a 3.5 quart than a 2! On many occasions I have tried to sneak one out of her house (most recently Thanksgiving!)... but I am not such a great sneaker... the laughter gives me away every time!

It was the last gift I opened at her house on Christmas Eve... and it may just be a piece of kitchen cookware... but it was given with love. I honestly am still surprised, and overcome that she parted with it... because she probably used it more than I will. But oh, I love it. And I love that she loves me... so much that she would give me something of hers that she loves.

A mother's love for her daughter is the gift I
unwrap
today... love that came in pretty paper just to make me smile.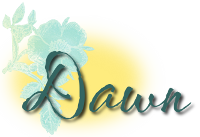 <>